Are you an MBA who wants to gain an edge over your peers and job market competitors?
American enterprise communication skills are in high demand, yet short supply among newly minted MBAs. According to Bloomberg Business, it is a "Job skill that companies want but can't get" (Bloomberg Business - 2015 Job Skills Report).
Learning how to communicate effectively in an American enterprise business environment will give you a competitive advantage so that you can gain a solid return on your MBA investment.
The American Enterprise Business Speak course is designed specifically for non-native speakers of American English intending to take on a leadership role in large enterprise businesses.
What am I going to get from this course?

In the American Enterprise Business Speak course:
You will learn to pronounce over 100 commonly used American enterprise business terms correctly
You will learn to speak smoothly and clearly with a pace that's easy for an American business audience to understand
You will learn from recognized American business leaders via video case studies featuring Peter Thiel (Co-founder PayPal), Michael Porter (Harvard University Professor), Li Lu (Investment Banker, Hedge Fund manager), and Melinda Gates (American Philantrophist)
You will learn to sound natural and professional in your speech
You will practice using business and everyday conversational dialogs.
Your MBA career demands that you communicate in a way that Americans managers respect, understand and resonate with.

The lessons in the American Enterprise Business Speak course are designed to help you achieve this.
The enterprise business terminology featured in this course is selected from my list of common mis-pronounciations made by international professionals I've worked with in my American accent coaching program.
The business practice dialogs are taken from real life situations that enterprise professionals encounter every day.
Video Case Studies featuring recognized American MBA leaders, including Harvard University's Michael Porter, will show you exactly how American business professionals speak.
I guarantee that my course will teach you the secrets for speaking American Enterprise English in a manner that is clear, professional and engaging.
Here's what other students have said about this course:
"I love the way you have used symbols and word connections to point out corrections to be made. Very effective!" M.U., MBA Graduate, Darden School of Business, University of Virginia.
"I would like to share a piece of good news. I am starting a new career journey with ___ next month. It looks like my long quest – transitioning into corporate finance – has come to its successful end. I believe you deserved credit for this accomplishment. Thank you for your support, training and advice." B.A., MBA Graduate, Darden School of Business, University of Virginia.
"Thanks for creating lessons that focus on my problem areas.You've helped me improve the quality of my conversations." Y.L., M.S. The University of Chicago.
"I talked to a lot of coaches, but you were by far the most professional." D.N., MBA Graduate, Ross School of Business, University of Michigan.
"I can really feel the difference now when I hear my American friends talking to me, It's really surprising sometimes to listen and realize that the rules which you gave me are exactly the same which I hear from my American friends." P.W., MBA Graduate, Jones School of Business, Rice University.
"Thank you for your lessons. They are valuable and constructive! I am looking forward to learning more." T.S., MBA, Crummer School of Business, Rollins College.

"The way you explain the pronunciation and the stress patterns using your "magic spelling" made all the difference for me". S.S., Business Development Manager, Los Angeles
"Thank you Susan. I would strongly recommend you to other professionals who want to speak clear American English. I accomplished what I wanted in your course". Stas, Marketing Executive, Zurich, Switzerland.
"Many thanks Susan. Much appreciated. I've found your class interesting and inspiring. I'll spend some time practicing what I've learnt from you." R.K., Banking Executive & University Professor, Hong Kong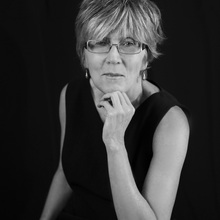 American Accent Specialist
Susan Ryan
Susan Ryan is an American accent specialist and communication coach at ConfidentVoice.com. She is the author of the American Accent Fundamentals iBook and creator of the American Accent for IT Professionals course on Udemy. Since 2007, she has helped hundreds of highly skilled foreign professionals speak American English clearly and confidently. Susan looks forward to teaching, guiding and partnering with you in achieving your communication goals.
2

1.3 Syllable Stress Rules for Business Terminology

1.4 Sounds to Reduce in Business Terminology

1.5 The Reduced Schwa Sound

1.6 Quiz: Syllable Stress Rules for Business Terminology

3

2.2 Phrasal Verbs Used in the Business Environment

2.3 Compound Nouns Used in the Business Environment

2.4 Key Initialisms Used in the Business Environment

2.5 Quiz: Rules for Clear Speech

4

Clarity in Business Sentences

3.2 Using Pauses & Intonation for Clarity

3.3 Business Speak Sentences with Vowel 1- iy as in Green

3.4 Business Speak Sentences with Vowel 2- I as in Silver

3.5 Quiz: Clarity in Sentences

5

Speaking Smoothly in Business

4.2 Business Speak Sentences with Vowel 3-ey as in Gray

4.3 Business Speak Sentences with Vowel 4-ɛ as in Red

4.4 Business Speak Sentences with Vowel 5-ae as in Black

6

Integrating Your New Business Speaking Skills

5.2 Business Speak Sentences with Vowel 6-ɝas in Purple

5.3 Business Speak Sentences with Vowel 7- ʌ as in Mustard

5.4 Business Speak Sentences with Vowel 8-ɑ as in Olive

5.5 Quiz: How to Pronounce Consultant in American English

7

Avoid Common Mispronunciations of Business Terminology

6.2 How to pronounce Access & Success in American English

6.3 How to pronounce Person & Percent in American English

6.4 How to pronounce Comedy & Committee in American English

6.5 Quiz: Avoid Common Mispronunciations

8

Speak Fluently in Business

7.2 Business Speak Sentences with Vowel 9-uw as in Blue

7.3 Business Speak Sentences with Vowel 10-ʊ as in Wood

7.4 Business Speak Sentences with Vowel 11- ow as Rose

9

8.2 Business Speak Sentences with Vowel 12-aw as in Brown

8.3 Business Speak Sentences with Vowel 13-oʳ as in Orange

8.4 Business Speak Sentences with Vowel 15- ɔʸ as in Turquoise

8.5 Business Speak Sentences with Vowel 14-ay as in White

10

Video Case Studies of Business Leaders

9.2 Video Case Study~ Gates Foundation Co-Chair Melinda Gates

9.3 Video Case Study~Investment Banker Li Lu

9.4 Video Case Study~ Venture Capitalist Peter Thiel

9.5 Video Case Study~Harvard MBA Professor Michael Porter (for download only)

11

Dialogs for the Business Environment

10.2 Business Dialog~Working in Multinational Companies

10.3 Business Dialog~Updating Your LinkedIn Profile

10.4 Business Dialog~​Brainstorming New Strategies

10.5 Business Dialog~ The Sales Meeting

12

Everyday Business Communication

11.2 How to Communicate Clearly on the Phone

11.3 How to Pronounce Months & Days

13

Next Steps for Improving Your Business Communication Skills

12.2 Five Strategies You Should Use to Practice

12.4 Additional Resources
$368.00

$368.00

MBA Honors Bundle: American Accent Masterclass + American Enterprise Business Speak

Buy Now