Do You Wonder Why Americans Don't always Understand You When You're Speaking English?
Are you frustrated that Americans are always asking you to repeat yourself?
Are you tired of Americans asking you where you are from, instead of listening to what you have to say?
Do your American colleagues lose interest or 'switch off' when you're talking to them?
Are you sick of getting noticed only because of the way you sound?
You know all too well that speaking American English with a foreign accent often creates breakdowns in communication. When people fail to understand you, conversations and negotiations fall apart. Even routine tasks such as answering the phone or giving directions can become painful to complete.

Spoken American English sounds and speech patterns, commonly known as the American accent, is not specifically taught in typical English language learning programs. The reason why you do not sound like an American would when you speak English is simply because no one has ever told you what you needed to do. As a result, most non-native American English speakers lack the awareness and knowledge of how to successfully improve their American accent and pronunciation.
By learning to recognize and change the sounds and patterns that you unconsciously transfer from your own language to English, you can learn to speak in a way that will allow American listeners to understand you more easily.
About this course
Now, you can learn the five 'Master Keys' to unlocking your American accent that no one has told you about!
In this online course you'll learn 5 key "Secrets" that will allow you to communicate more clearly, effectively and professionally in the North American workplace.
What you will get from this course
Discover what Americans think about accents (it's better than you think)
Learn the secret formula for speaking with the right pace
Learn the key to asking questions correctly (there's more than one way)
Learn the secret technique you can use to make yourself understood the first time when you say any word, including names and numbers
Learn the keys for making friendly small talk that will allow you to easily connect with Americans
Learn how to avoid accent related grammatical errors
Learn how successful American CEO's communicate in a way that inspires confidence & trust - featuring Sergey Brin (Co-founder Google), Jeff Bezos (Founder Amazon), Indra Nooyi (CEO PepsiCo), Ping Fu (Co-founder GeoMagic), Vic Gundotra (SVP Google), and Christine Lagarde (MD, International Monetary Fund).
After this course, you will be able to confidently:
Ask any type of question clearly and effectively
Lead meetings and discussions with confidence
Speak clearly over the phone
Make small talk with colleagues and clients
Connect with others in a way that builds trust and inclusiveness
Clear up communication breakdowns whenever they occur
Who should take this course
MBA candidates/International professionals working (or intending to work) in American business enterprises or academia.
Professionals who have a good command of written English and vocabulary.
Professionals who've already experienced some career success and want to take their verbal communication skills to the next level.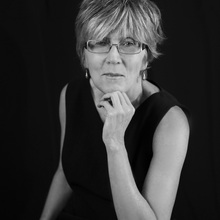 American Accent Specialist
Susan Ryan
Susan Ryan is an American accent specialist and communication coach at ConfidentVoice.com. She is the author of the American Accent Fundamentals iBook and creator of the American Accent for IT Professionals course on Udemy. Since 2007, she has helped hundreds of highly skilled foreign professionals speak American English clearly and confidently. Susan looks forward to teaching, guiding and partnering with you in achieving your communication goals.
1

How to Get the Most From this Course

2

Week 1: Why Do I Have an Accent When I Speak American English?

1.4 American Communication Framework

1.6 Key #1: How to Make Yourself Understood

1.7 Ten Spoken American English Rules

1.8 Spoken English Rules (Continued)

1.9 Your First Step to Becoming a Better Communicator

1.10 Article & Assignment

1.11 Case Study: Indra Nooyi

1.12 Master List of Stress Patterns

1.13 Audio: Master List of Syllable Stress Patterns

3

Week 2: Why the Brain Doubts a Foreign Accent

2.4 Key #2: Avoid Accent Related Grammatical Errors

2.5 Winning Your Listeners Trust

2.6 The Importance of Credible Communication

2.8 Assignment Rules for Pronouncing Word Final Sounds

2.9 Audio: Rules for Pronouncing Word Final Sounds

2.10 Assignment The 3 Sounds of ED

2.11 Audio: The 3 Sounds of Ed

4

Week 3: How To Speak Like a Native

3.2 What You Will Learn in this Module

3.3 Recap of Secret Keys #1 & #2

3.4 How to Speak Like a Native

3.6 The Intelligibility Principle

3.7 Rhythm of American English

3.8 Key #3: How to Ask Questions Correctly

3.9 Question Intonation Patterns

3.10 You Don't Need to Eliminate Your Accent

3:14 Case Study: Vic Gundotra

5

Week 4: The Sound of Your Voice Speaks Volumes

4.4 Key #4: Speak With the Right Pace

4.5 Phrases, Pitch & Pauses

4.6 The Sound of Your Voice Speaks Volumes

4.7 Pace in Deliberate vs Casual Speech

4.11 Case Study: Sergey Brin

6

Week 5: What Does a Successful CEO Sound Like?

5.4 Key #5: Communicate in a Way that Inspires Trust

5.5 The Most Common Sound in English You've Never Heard Of

5.9 Case Study: Jeff Bezos

5.10 Case Study: Christine Lagarde

7

Week 6: Making Connections with Small Talk

6.4 Key #6: Secret to Making Friendly Small Talk

6.11 Video Case Study: Bog Digen

8

Week 7: American Responses to Foreign Accented Speech

7.4 American Responses to Foreign Accented Speech

7.5 Deliberate vs Casual Speech

7.6 Key #7: How to Sound Natural

9

Week 8: Putting It All Together

8.3 Putting It All Together: Keys 1-2

8.4 Putting It All Together: Keys 3-5

8.5 Putting It All Together: Key 6

8.6 Putting It All Together: Key 7

8.11 Video Case Study: Arianna Huffington
Pricing options
Explain how different pricing options might be valuable to different segments of your audience.