Would you like to receive very personalized feedback on the way you speak American English? Would you like to understand exactly what steps you need to take, in order to speak clearly?
If you answered yes, I have the the answer.
You should sign up for a Personal Accent Assessment.
Here's why~
When you sign up for a Personal Accent Assessment you'll find out exactly:
Why Americans don't always understand you.
How Americans feel about the way you speak English.
The top 4 techniques you must take in order to speak clearly.
Specific recommendations on resources you can use to practice.
I've had the opportunity to coach hundreds of international professionals how to communicate clearly in American English. No matter what your native language is, Telugu, Hindi, Gujarati, Punjabi, Chinese, Spanish, Portuguese, German, Russian, Japanese, Vietnamese, Korean, I know WHY Americans don't understand you. I can tell you exactly what you need to change this.
How This Works:

Step 1: You Contact Me
You contact me at susan@confidentvoice.com. In your message, tell me that you would like an Accent Assessment.
Step 2: I Create Your Customized Assessment
I use your LinkedIn Profile and native language to create a customized Assessment for you. I send this to you via email.
Step 3: You Submit Your Audio Recording
You submit an audio recording of your speech based on the customized Assessment and instructions that I send you.
Step 4: I Listen and Complete Your Report
I listen carefully to your audio recording. Then I create a written and audio report designed specifically for you. In the report I tell you:
1. Exactly why Americans struggle to understand you.
2. The top 4 features of your speech that contribute to breakdowns in communication, and the techniques you need to learn to change that.
3. Clear examples of how to pronounce your challenging words and sentences clearly and correctly.
4. Recommended resources you can use to start making noticeable, positive changes to your speech right away.
(This usually takes 48 hours).
Step 5: You Listen to your Completed Assessment
Once you receive the written and audio report that I create for you, you'll need to set aside at least 30 minutes to listen to and read your report.
You'll be surprised at what I tell you. And you'll want to get started using the techniques and resources that I recommend.
I work to make your feedback very personal. That's because I want you to speak American English clearly as soon as possible.
Some recent comments from satisfied clients:
☆ You've found the root cause of my communication problems. Now I know what I need to do in order to speak clearly at meetings.- GK, Enterprise Architect, South Carolina
☆ My daughter (born in the US) said that you were right about my accent challenges. Now that I know about syllable stress, I can see what I've been doing wrong.~TG, Executive Coach, Ecuador
☆ I love your feedback! This is so helpful and I'm sure that I can make progress. - MC, Marketing Director, Paris, France
☆ Thanks a lot for such a nice mp3 recording, you did an excellent job. It was nice and slow and great emphasis on the stress words. You are incredible, I really admire you dedication and effort. - MK, Academic, Boston, Massachusetts
☆ I can't believe I was saying so many things the wrong way. Now I know the rules and I try to apply them. - SP, IT Professional, Milwaukee, Wisconsin

Contact Me for Details
If you want to find out exactly why Americans don't always understand you, and specific techniques you can apply to change that, send me a message at susan@confidentvoice.com.
I'll send you more details about how a Personalized Accent Assessment will help you achieve communication success!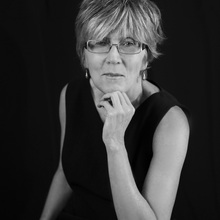 American Accent Specialist
Susan Ryan
Susan Ryan is an American accent specialist and communication coach at ConfidentVoice.com. She is the author of the American Accent Fundamentals iBook and creator of the American Accent for IT Professionals course on Udemy. Since 2007, she has helped hundreds of highly skilled foreign professionals speak American English clearly and confidently. Susan looks forward to teaching, guiding and partnering with you in achieving your communication goals.